Welcome to the West Village Market Update for April!
I've had countless conversations with homeowners that read a headline and apply the information to the entire market. Real estate is local, and headlines for specific neighborhoods have disappointed many sellers when they finally put their homes on the market.
Every neighborhood is its own market. Every price point within your area has its market. While The Times can try, it isn't easy to aggregate this information for every cross street in NYC. They have to paint a broad stroke.
That's where I come in!
I want these updates to be more specific for you. You're not going to find this much information anywhere else.
That's enough blabbering on with the show.
The West Village housing market remains strong and in the seller's favor.
Inventory

for the neighborhood sits at 84, while the absorption rate remains at 1.9 months. If we didn't add any new stock, the West Village would be out of homes to buy in 2 months. Inventory is down 33% from this time last year.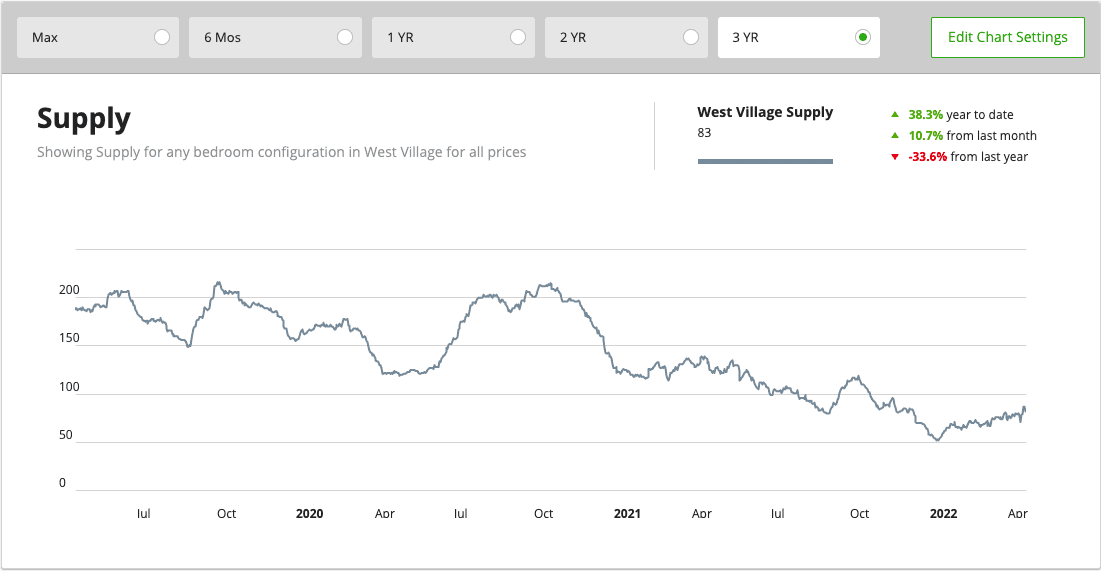 Pending sales

are now 106 homes. Up 11.6% compared to March.>100 pending sales in the neighborhood is high historically. While this number is down from last year, we've continued to see a lot of demand. For much of last year, new supply and pending sales were in lockstep. This is a big reason we just can't seem to get supply to increase.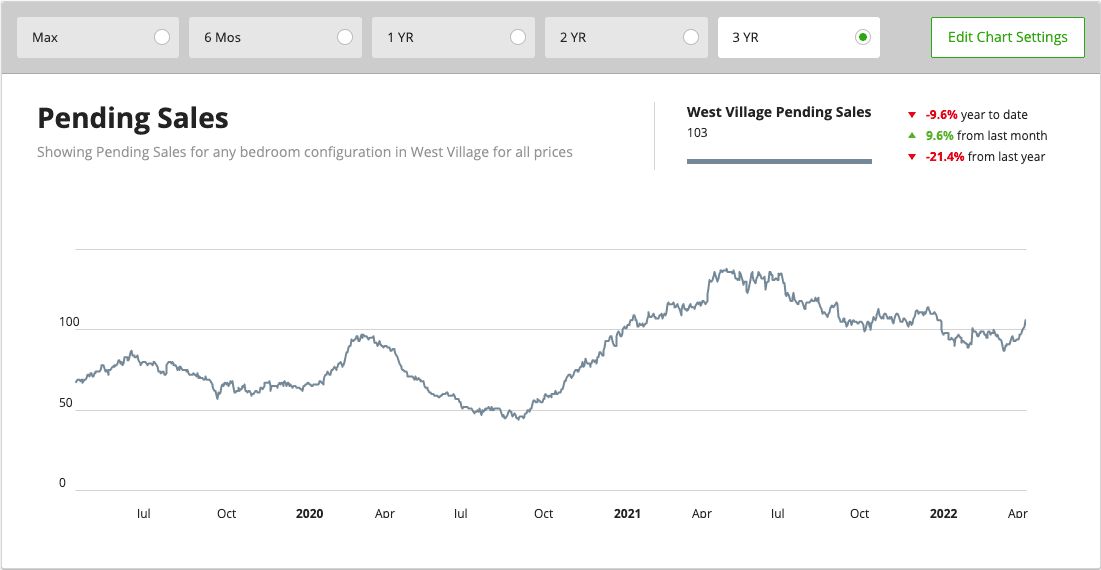 The

Market Pulse

, a ratio of pending sales to supply, is 1.26. That's up 32.6% over last year and +.8% higher than last month. The market shifted away from buyers in January of 2021 and hasn't looked back. If there's one indicator I follow, this is it. It sums up the market from day to day.
Sales prices in the West Village are up 37% over last year

and 16.8% higher than last month. We still aren't at all-time highs, but we should see an increase for another month or two. Simply because these closing went into contract 60-90 days ago. This is a backward-looking indicator of where prices were.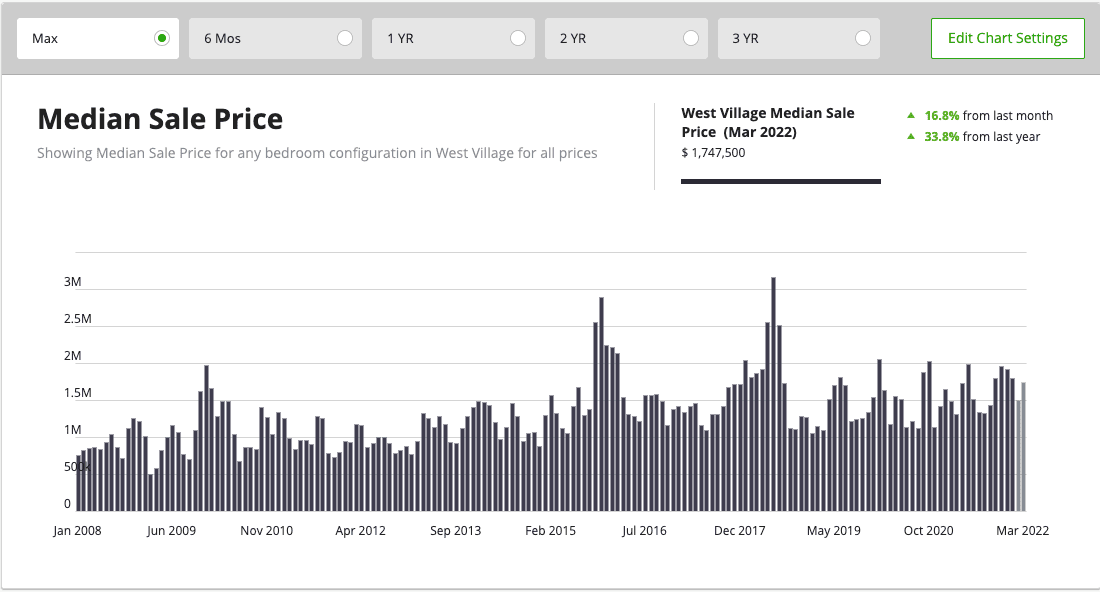 Interest rates are now 5%, the highest they've been in over a decade. The 10 Year treasury sits at 2.9%. The FED will continue to raise interest rates until inflation is under control. Until then, the stock market will continue to be volatile. Buyers are getting compressed in two directions. Both mortgages and homes are more expensive than a year ago. It's not a fun situation to be in, especially when you consider how long it could take some to save for a home. It's now a target that's constantly moving. Mortgage payments are 20% more expensive than last year with the rate hikes.
It's essential to keep an eye on interest rates and their effect on real estate. Textbooks would assume that demand will slow down as interest rates increase. Millennials and cash buyers have continued to push prices upward. There will be a point where mortgage rates cause buyers to pull back, but we haven't found that yet.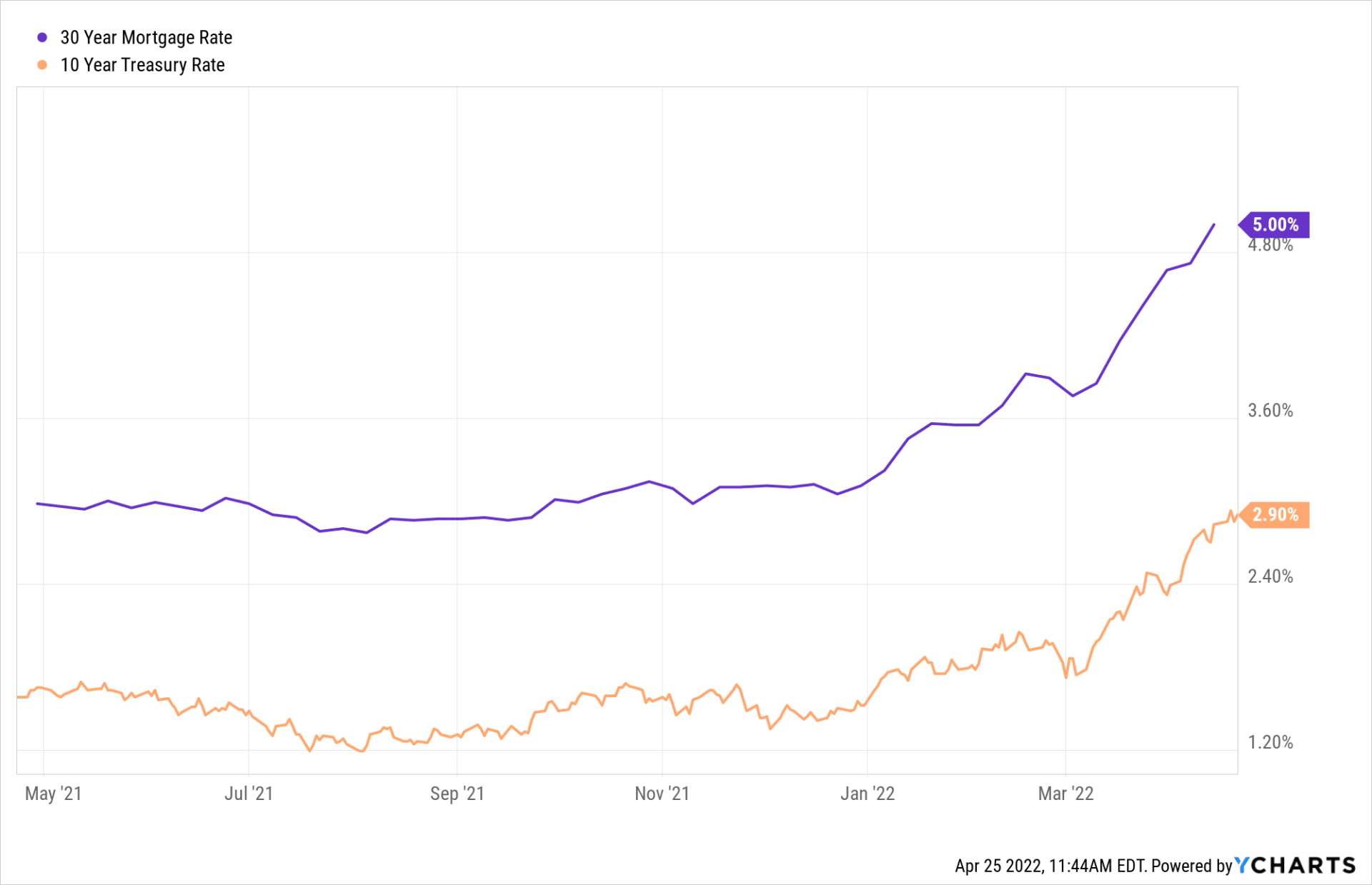 Other random thoughts...
While YOY data shows price appreciation, the month-over-month data is starting to tell the story of a "slowdown."

We might begin to see a slowdown in the price appreciation we've had over the last 12+ months. While a slowdown isn't ideal for a seller, we would slow down to a healthy housing market. We might've seen a market top for the time being.
The average number of days on the market in the neighborhood is 43.

As a seller, if your days on the market are above our current averages, something's wrong. You must adjust to showing activity, inquiries, and requests to show. These are the best indicators of your price.

Negotiate every offer

, no matter how offensive.

Use your agent's experience as a guide

. We are your boots on the ground. Drive the maximum interest through proper pricing and photography. Buyers decide the price, and the more competition there is the better your outcome.

If you have a short time horizon,

price is paramount

. The further away from market value, a home is listed, the longer it takes to sell.

If sellers receive offers in the same price range,

that might be where the market is today. To anchor to last year's prices is a mistake when the market is shifting so fast.

The first 30 days on the market are critical and tell us a lot about where demand is at the asking price. If I'm getting showings but no offers, that tells me that the price is reasonable but too high. Once showings dwindle, it's time to have a conversation about price reductions. While the market might slow down, it's still extremely liquid and it has been since late 2020. To sell, we have to adjust our strategy quickly.
That's it for this month.
To get alerts about future posts, you can sign up HERE.
To see a list of home sales since March 1, 2022, click HERE
Thanks for reading.